Eight Generations of Tradition Thrive at Centinela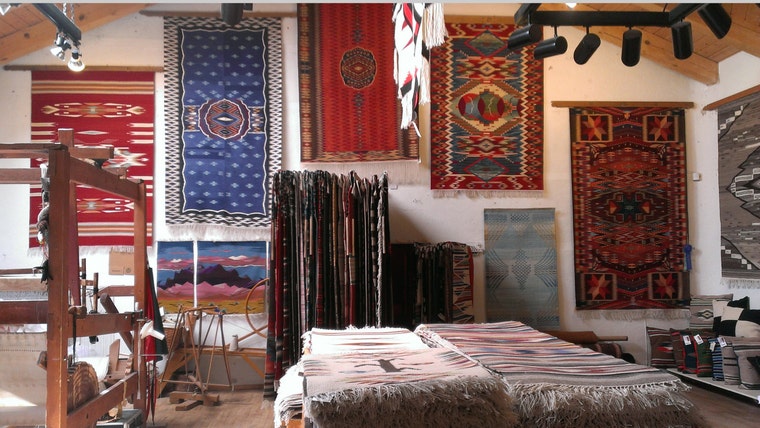 In 1982, immediately after getting married, Irvin and Lisa Trujillo started Centinela Traditional Arts.  Irvin had been weaving since he was young, but Lisa was instantly a professional weaver, since that was now the business she was in.  They also started dying yarn with natural dyes from the start.  The gorgeous colors she had to play with helped Lisa to see some of the infinite creative possibilities that Chimayo and Rio Grande weaving had to offer.  Now their daughter Emily has joined the family business as weaver, and even as a blogger.
Rio Grande weaving is a 400 year-old tradition here in Northern New Mexico. The Spanish settlers arrived here with Churro sheep, which eventually thrived, giving rise to the important sheep, wool and blanket trades of New Mexico history. The blankets that were woven for trade during Spanish Colonial times were primarily striped blankets, but other styles developed over the years as other cultural influences inspired the weavers of the area. The intricate tapestry work of Saltillo textiles came up from Mexico. The eight-pointed star of mysterious origin came into use during the earliest American contact with the Vallero blanket. And Victorian era tourists inspired the Chimayo weaving and its transformation of the weaving industry.
They have been drawing from that tradition as our primary source of design inspiration for weavings and for knowledge of equipment, materials and techniques.
They also work closely with a few other craftsmen, mainly weavers, to create the work we sell here in our shop. And we try to keep exploring to find out new things we can do.
Centinela Traditional Arts – our shop in Chimayo, New Mexcico is at:      976 State Road 76, Chimayo, NM  87522
You can reach us at: (505)351-2180
ChimayoWeavers.com– is our shop on the web
The owners are Irvin and Lisa Trujillo